July 10, 2023
Home Office Design Ideas To Boost Creativity And Productivity
Designing a home office can be overwhelming, especially if you're new to remote work. With so many factors to consider, such as location, space, furniture, and lighting, it's easy to feel lost.
But don't worry. You don't need to be a professional interior designer to create an inspiring home office space. With some inspiration and practical tips, you can design a welcoming and professional workspace to boost your productivity and make you feel comfortable.
We'll share some home office design tips to impact your creativity and productivity positively. We'll also explain why your home's foundation is crucial to creating a safe working environment.
What is the best way to design a home office?
Creating the perfect home office involves several important factors. Making a few core decisions during the design process is essential to ensure your workspace is functional and tailored to your needs. Let's explore some of these decisions together to help you create a productive and comfortable workspace that meets your unique requirements.
Step 1: Choose the right location
When deciding how to design your home office space, it's crucial to consider where you'd like it to be. The best option will depend on the nature of your work, how you like to work best, and how much space you have available.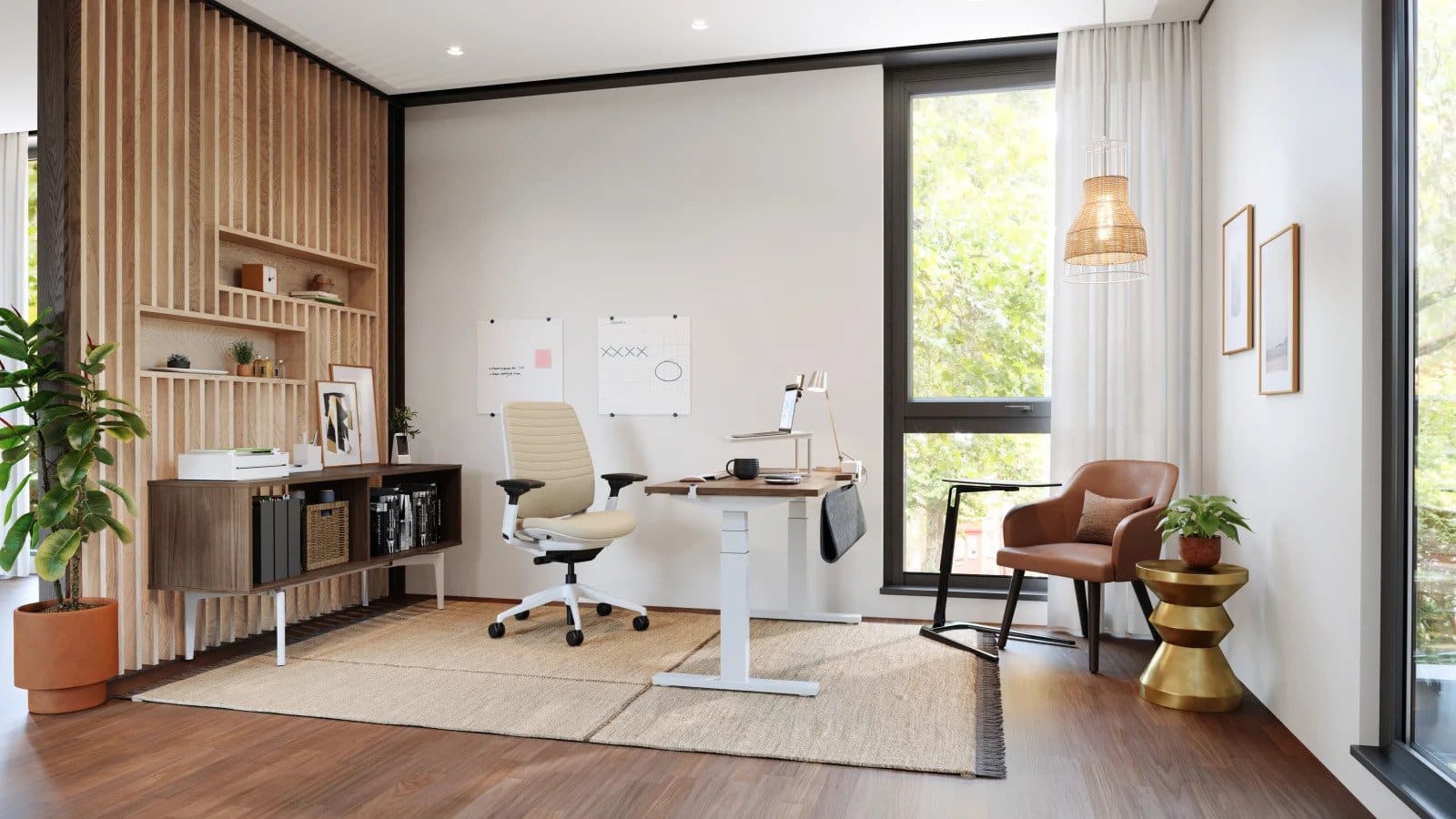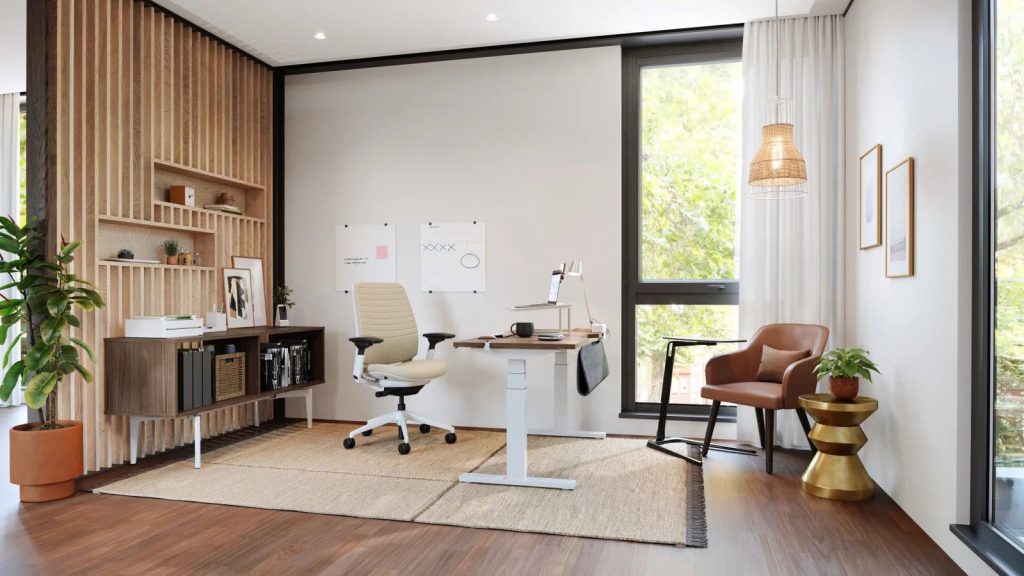 Image credit: Steelcase
 If your work requires concentration, you'll want to set up a quiet study space where you won't be disturbed. Having a well-organised room to yourself will inspire productivity and keep distractions at bay.
Step 2: Be flexible
Contemporary home office design is all about flexibility; many need a dedicated home study nook. If you lack living space or need to manage your work-from-home schedule around busy family life, consider kitchen, living room or bedroom office designs. 
 Dedicate a corner to an office nook to minimise distractions. Ideally, have your desk facing away from the rest of the room. Separating an area off with wall dividers can be a great way to gain some much-needed privacy in a crowded space.
Step 3: Maximise space
Whether working from a home library, converted kitchen or master bedroom, your home office layout largely depends on your available space. A large room allows you to experiment with different arrangements and floor plans, while a smaller space requires planning carefully to maximise space.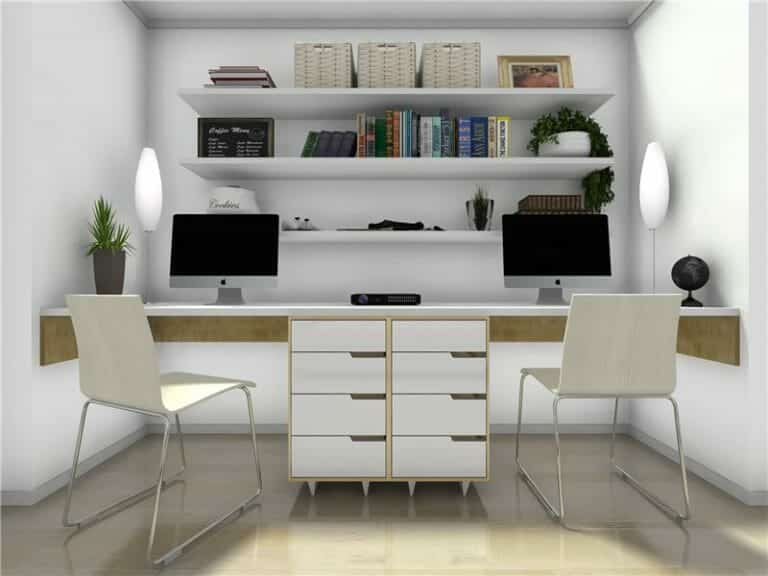 Image credit: RoomSketcher 
In all situations, it's important not to clutter your office with unnecessary objects. Your space should be tidy, spacious and well-organised. A clean room creates a professional working environment, maximises productivity, and increases comfort.
When choosing your office furniture, consider space-saving ideas. An office desk with built-in shelf storage is a great way to save floor space. Likewise, it's essential to have enough room to store excess files. Take advantage of height by using tall shelves that maximise office storage while occupying a low surface area.
 Using the furniture already available to you is a great way to save on space in bedroom or kitchen designs. A kitchen table or dressing table can make an excellent desk – just be sure you have enough legroom to be comfortable and a high-quality chair matching the height of your chosen work surface.
Step 4: Don't skimp on natural lighting
Natural light is a critical component of any modern home office. A well-lit space provides an inspiring environment to think, study and create.
Opt for a location with lots of access to natural light where possible. Placing your desk before a window can help you feel relaxed and energised throughout the day. However, it could also strain your eyes and cause distractions. 
To remedy this, try placing your desk at a right angle to the nearest window to reap the benefits of natural light while reducing direct sunlight. In addition, some strategically placed translucent window blinds can reduce glare without limiting light.
Consider high-quality light fixtures such as a home office lamp if working into the evening. Setting the right lighting atmosphere for your office boosts your comfort and enhances productivity. 
Opt for compact desk lamps instead of floor lamps if space is a concern. A smaller light can sit comfortably on your desk, and you can position it to suit your preference.
Step 5: Consider your wellbeing
It's essential to think about your well-being when designing a home office. Create a space that inspires you – let your imagination be the limit. Home office spaces should feel warm and comfortable. After all, you'll be spending a lot of time there. 
Image credit: San Francisco Design
Incorporating greenery, ornaments and artwork into your home office can bring your room to life, creating a relaxing environment that's both calming and inspiring.
For simple yet effective home decorating, incorporate a statement Moroccan rug into your room to add a pop of colour and comfort to an otherwise clean aesthetic. For relaxation, adding a comfortable chair and coffee table to your room can provide a much-needed area for contemplation and reflection.
Personal touches such as a gallery wall, poster area, or accent wall can make a small space feel homely and inviting. Just ensure that style is in the way of practicality. Your office should be clutter-free and well-organised to keep your environment professional and your mind clear.
Step 6: Choose ergonomic furniture
A quality desk and chair is a home office makeover's most essential and often overlooked part. Ensure your desk is big enough to comfortably hold any computers, files and stationary required while allowing enough room to take notes and use your keyboard without wrist strain.
If space is a concern, a ladder desk can provide vertical storage, allowing you to keep files nearby without cluttering your workspace.
When choosing a desk chair, opt for something comfortable and adjustable. It's worth investing in something high-quality. For example, Sihoo and Herman Miller each produce luxury ergonomic desk chairs built to take the strain off your neck and back. 
What colours should I choose for an office?
Colour is often overlooked when designing the perfect office space, but it is one of the simplest and most cost-effective ways to change your room's overall aesthetic.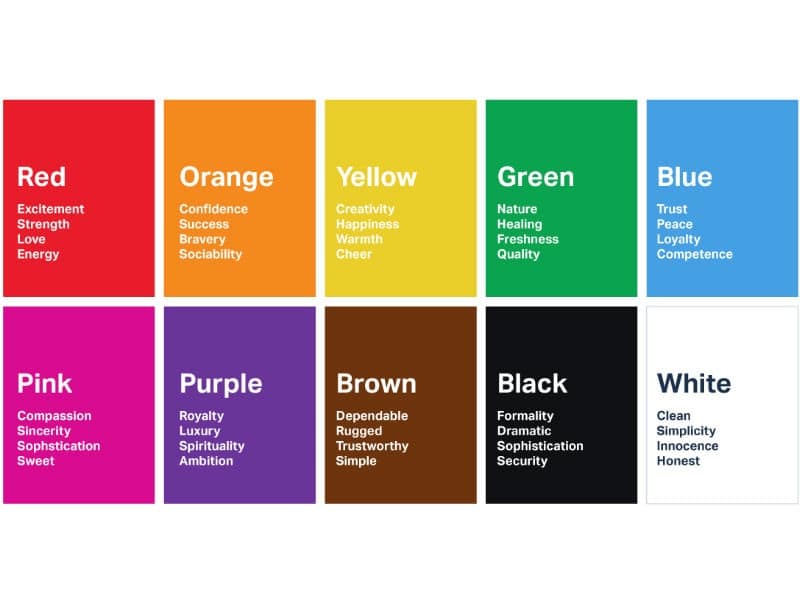 Image credit: London Image Institute
With a healthy dose of home office inspiration and a little spare time, you can turn a bland, uninviting space into a vibrant, welcoming office that looks spacious and boosts productivity. 
How to make an office look bigger?
When trying to make an office look larger than it is, choose light, bright colours. White walls reflect light, creating a sense of openness. Neutral light grey or pale green can add a touch of character to your room without reducing space.
 If you want to maximise your room's space and get a vibrant colour scheme, consider adding a darker accent wall to liven up your office without limiting brightness.
Which colours are best for productivity?
The colours you choose to paint your walls can significantly impact your mood and productivity. They can create an environment that energises and inspires you, helping to boost morale and increase efficiency.
For a calming effect that soothes the mind and aids concentration, consider opting for a blue accent wall. This versatile colour enhances mental clarity and boosts wakefulness, making it an excellent choice for those looking to maximise their productivity.
Do wall colours impact work creativity?
A yellow accent wall might be just for those working in creative roles who want to feel inspired. The light and bright hues of yellow can add a refreshing pop of colour to your workspace, which can help improve your productivity and stimulate your creativity.
Home office structural safety
Your home office plan is only as practical as its foundation. When designing your productivity space, it's essential to consider how structural issues could impact your ability to work safely and effectively.
Structural damage can impede even the most beautiful home office ideas. Uneven floors can make it challenging to install office flooring and position furniture correctly, significantly impacting the safety and functionality of your workspace.
Don't overlook wall cracks as mere eyesores; they can indicate severe structural damage and require immediate attention. Similarly, jammed windows and doors may seem like minor inconveniences but can pose serious fire risks and ventilation issues.
Contact Raise and Relevel today
Don't let structural issues prevent you from having your dream home office. At Raise and Relevel, we have over 50 years of combined experience and 7,000 satisfied customers. 
Our commitment to fast, affordable home re-levelling services ensures that all our clients can work in a safe and functional environment. Contact us today to book a consultation with one of our industry-leading experts and get started on creating the perfect workspace for you.
Other articles you may like
Cracks In Garage Floor: Causes and Preventive Measures
Correct subsidence in your home with cost-effective house releveling. Underpinning or demolition/rebuilding may be necessary in severe cases. Click here to learn more!
Contact Us
info@raiseandrelevel.com
1300 053 835
Raise & Relevel Builders Licenses
NSW: 377694C
ACT: 20211579
QLD: 15300551
VIC: CDB-U 73507